The 8 Best Silk Camisole of 2023, Tested & Reviewed
Every female fashionista owns a versatile silk camisole that can be worn with a variety of fashionable outfits at the same time and can be worn all year round, making it an essential closet piece that is as much a part of your closet as a crisp white tweed coat and light blue jeans. In the upcoming winter, or in some countries summer, you can wear a silk undershirt from morning until you go to bed at night if you pair it properly.
Yes, we all opt to wear jackets with heavy fabrics and an outwardly wide fit in the fall and winter, but the versatile silk camisole can be a staple in any ensemble. Wearing a silk undershirt underneath a jacket is a great way to emphasize the quality fit of your entire jacket, and it also gives you an eye-popping sense of style that adds a soft, bright touch. If you have a romantic date coming up and are struggling to figure out how to dress yourself? A silk camisole plus a blazer or leather jacket will do the trick, and you don't know how to style a silk bustier? Matching with any top may have a sudden feeling, but choosing to match with silk halterneck skirt with the same color of silk camisole undershirt will reflect a sense of high-level elegance and intellectual and charming.
Every year the fashion world goes on a silk camisole matching spree, with all kinds of working professionals and fashionistas in need of silk camisole shirts in a variety of styles and budgets. Ready to add to your shopping cart? Keep scrolling down the infobar and you'll be able to browse silk camisoles made of top-notch fabrics and at prices that will be incredibly appropriate for you, and learn more about the basics of this apparel.
What is a silk camisole?
Some people may think of a silk camisole simply as a nightgown, but the truth is that it first started out as simply a piece of outerwear, but as the number of styles of nightgowns grew, so did the line of silk camisole sets. There are many different types of silk camisoles, from spaghetti shoulder camisoles to wide shoulder camisoles, as well as differences in the shape of the collar, and some silk camisoles will also have a lace trim on the front, so the way you wear them will vary.
When choosing a silk camisole, you should also pay attention to what color you need to wear it with, so that you can pick the right color, and a good silk camisole can be worn not only as an undergarment but also as a nightgown for the night!
Top Silk Camisoles for Women for 2023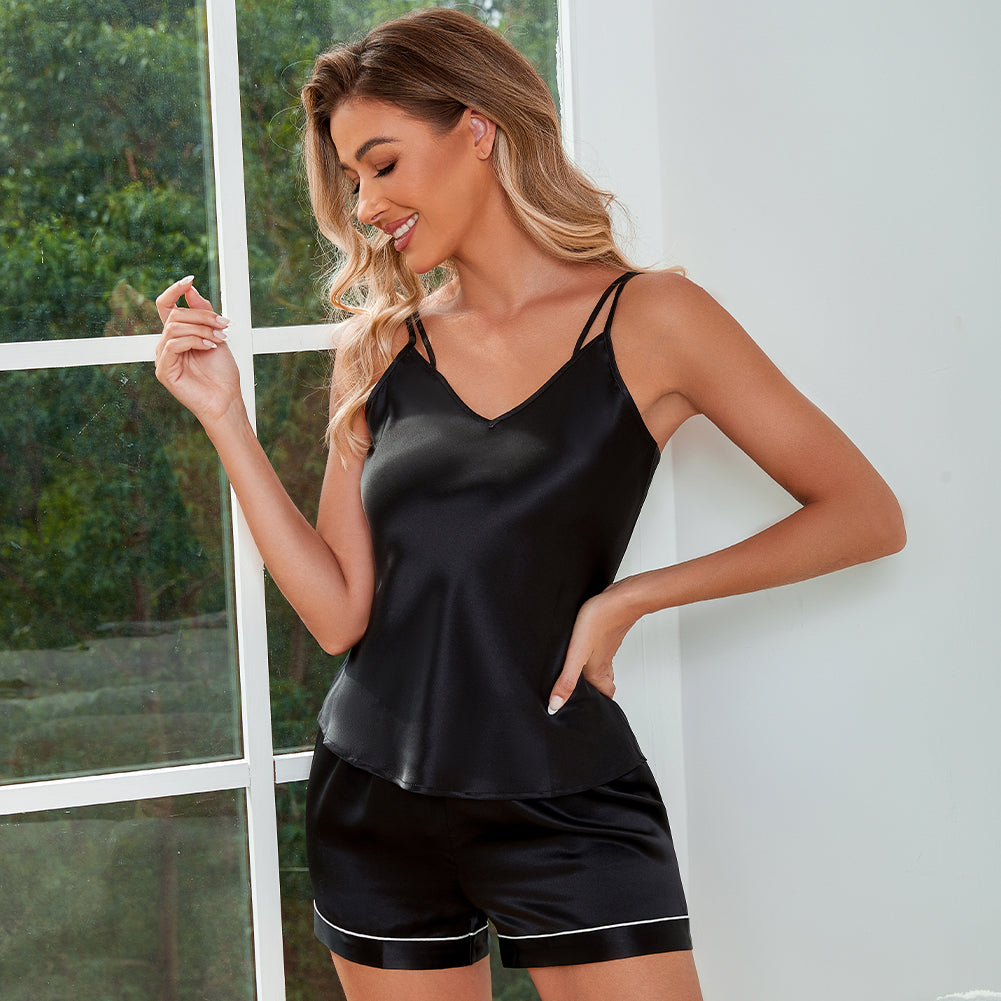 Looking for the perfect black silk camisole? This black silk camisole from THXSILK is sure to satisfy your preferences. This is a brand that specializes in silk bedding and also makes silk pajamas as its main selling product, so the brand's silk camisoles are made from the most graded silk fabrics, and a black camisole is arguably the most versatile color, and any top or pant can be worn with this color! Matching, and the brown color is suitable for people of all skin tones to buy, the texture of the silk will make you feel that this is your second skin.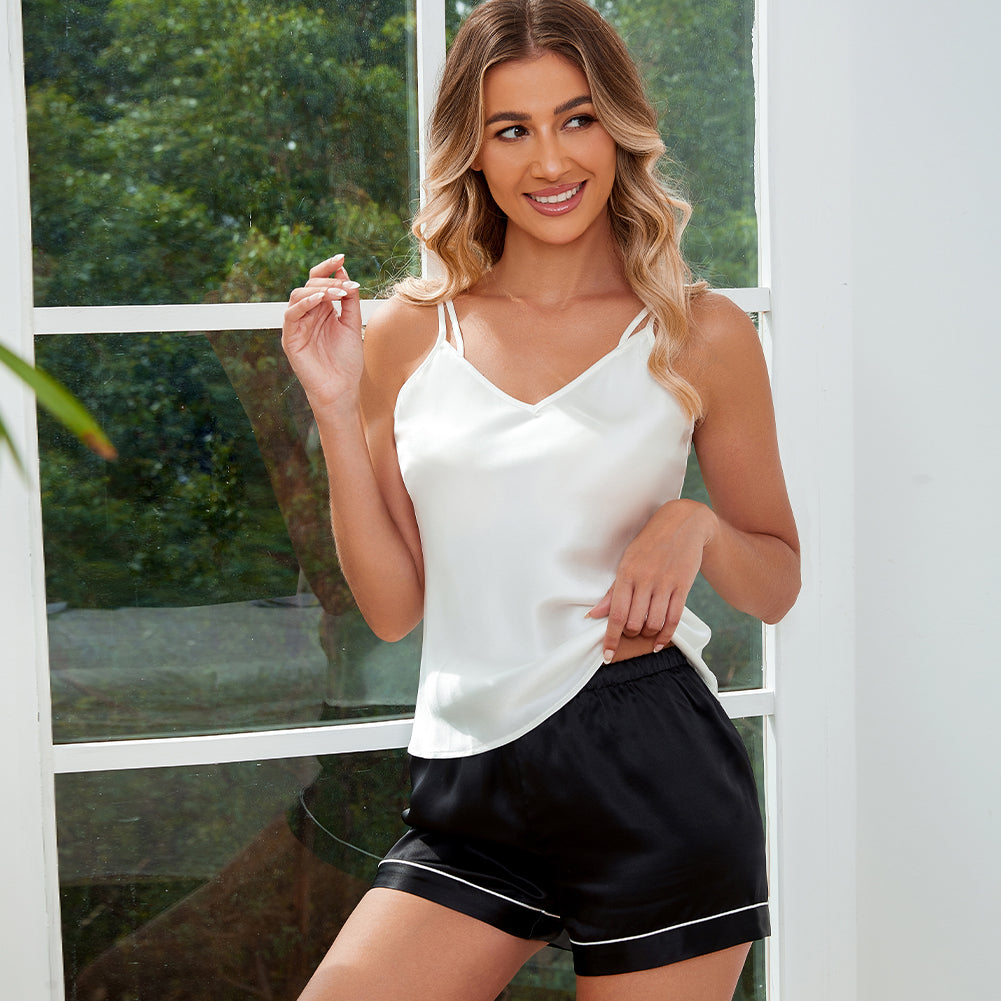 The silk camisole can be worn alone or with other outfits. This fitted white silk camisole is made from 100% mulberry silk and is therefore very lustrous, with a delicate little v-neckline and adjustable straps for all your styling needs. There are two straps on each side that intertwine to secure the straps so they won't slip off your shoulders easily. Although it is white in color but you don't need to worry about getting dirty easily because this silk camisole is machine washable and very convenient.
This sleek and full of elegance style piece chooses to use silk fabric for the camisole. The brand is known for its traditional and minimalist designs. Many high-end brands have a philosophy that simplicity is best, and this V-neck top is the perfect basic. Upscale fabrics and a simple design can best emphasize one's taste and figure. This silk camisole runs up to size XXL and is available in a total of five sizes, so no matter what shape you're in, you'll be able to find the right size at the brand.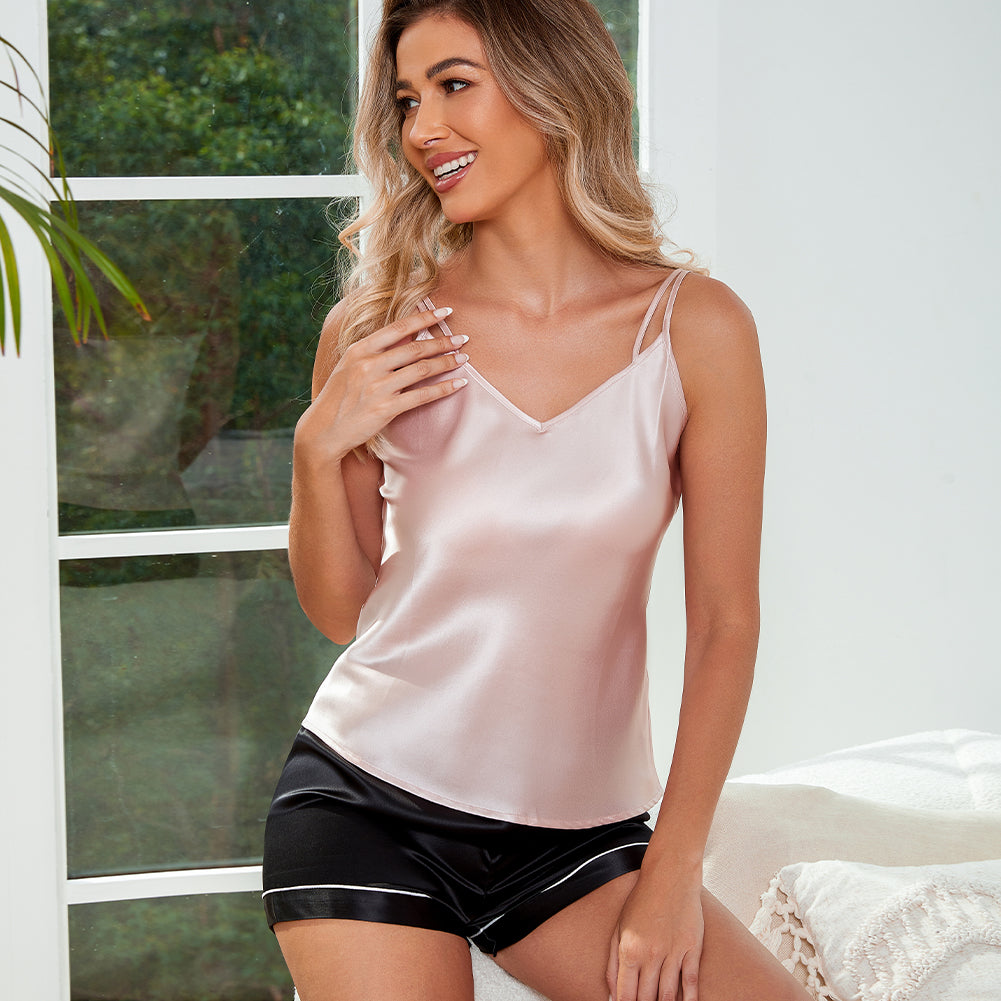 Not only is the fashion personnel will be in the closet all year round with a silk camisole, silk lovers will not hesitate to choose a silk camisole as their favorite with the selection of 100% silk fabric means luxury and highlights the quality of the small V-neck design means that the sexy but will not be leaked to their own privacy, casually with a pair of jeans or a simple summer with a pair of shorts and then matched with the corresponding Pair it with a pair of jeans or a simple pair of shorts in the summer and the appropriate earrings and bag, and you're sure to be the one with the highest turnover rate on the street.
Real Customer Reviews : I really like this dress, I usually wear a size M but with this silk camisole I wanted a looser fit so I went with the L. The fit is excellent and the quality of the fabric is of a quality that I haven't experienced with other home brands.
If you're looking for a camisole with a little more character than a regular bottom, then it's time to choose a silk camisole. Silk camisoles look classier than any fabric material, and you can even use them as nighttime sleeping pajamas because they are just incredibly comfortable. It doesn't tighten around your body like other camisoles do, but gently hugs your body like a gentle hand gently caressing your skin.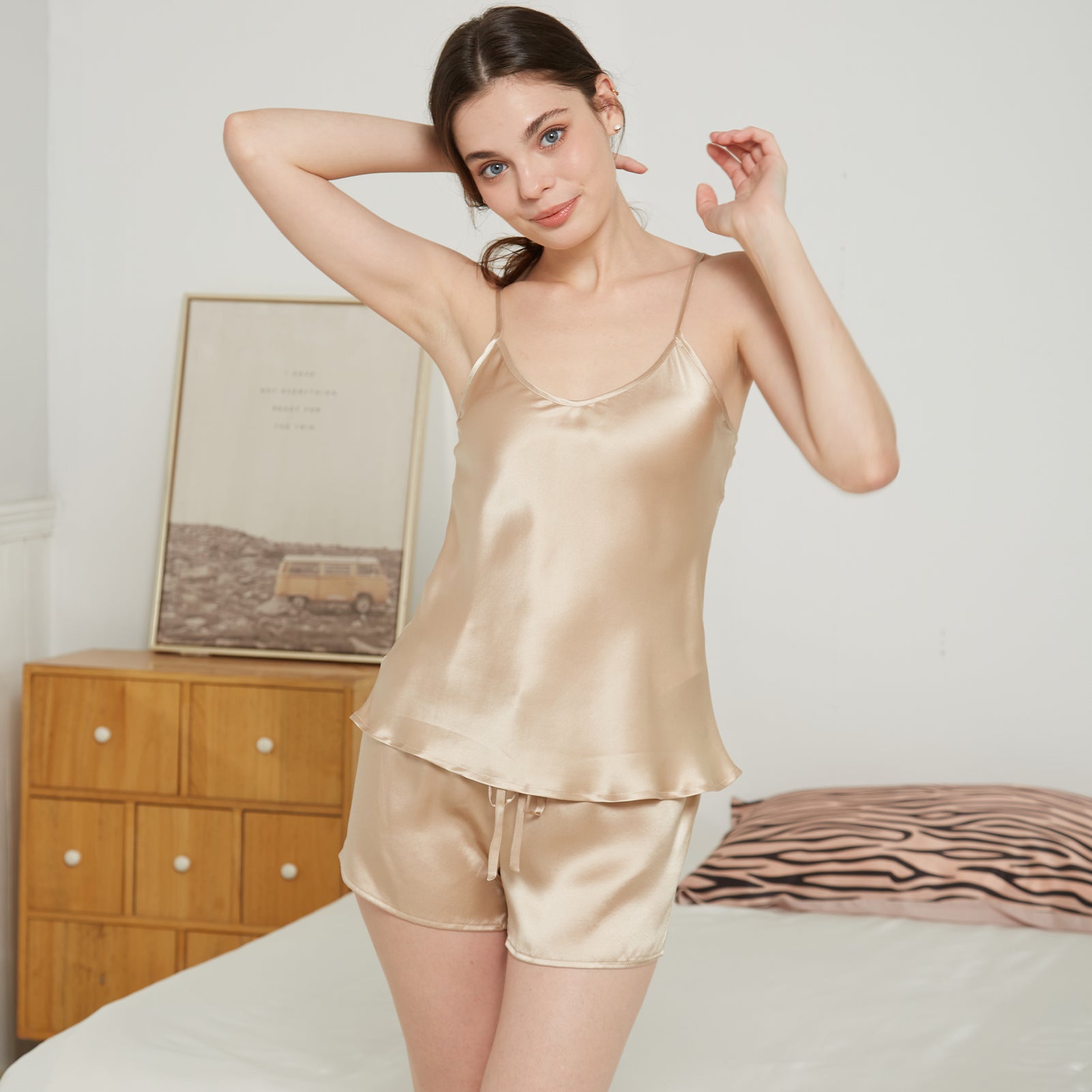 This silk camisole set is actually a pajama set, forgive me for putting it inside this collection because this silk camisole can totally be used on its own for accessorizing and at night it can be your pajamas, put on these matching shorts and you have a super beautiful home outfit.
The camisole is made of premium 19 momme silk fabric and at $79 USD you may only be able to purchase a thin camisole at other brands, but at THXSILK, a brand that gives you a complete silk camisole set, the price is very affordable and the price is the reason why it is recommended. And the fact that it is machine washable is one of the advantages that it is considered in the range.
Silk camisole have always been the major stars of the must-have items, they often wear silk suspenders as a standard shopping look, when you buy this silk suspenders after you will be more detailed to see the corresponding details, and the fashion of the new generation is very fast, but the silk suspenders of this kind of versatile items will not be at any time out of the fashion arena, but will be always welcome, so this navy blue suspenders will become a piece of clothing you love to hand.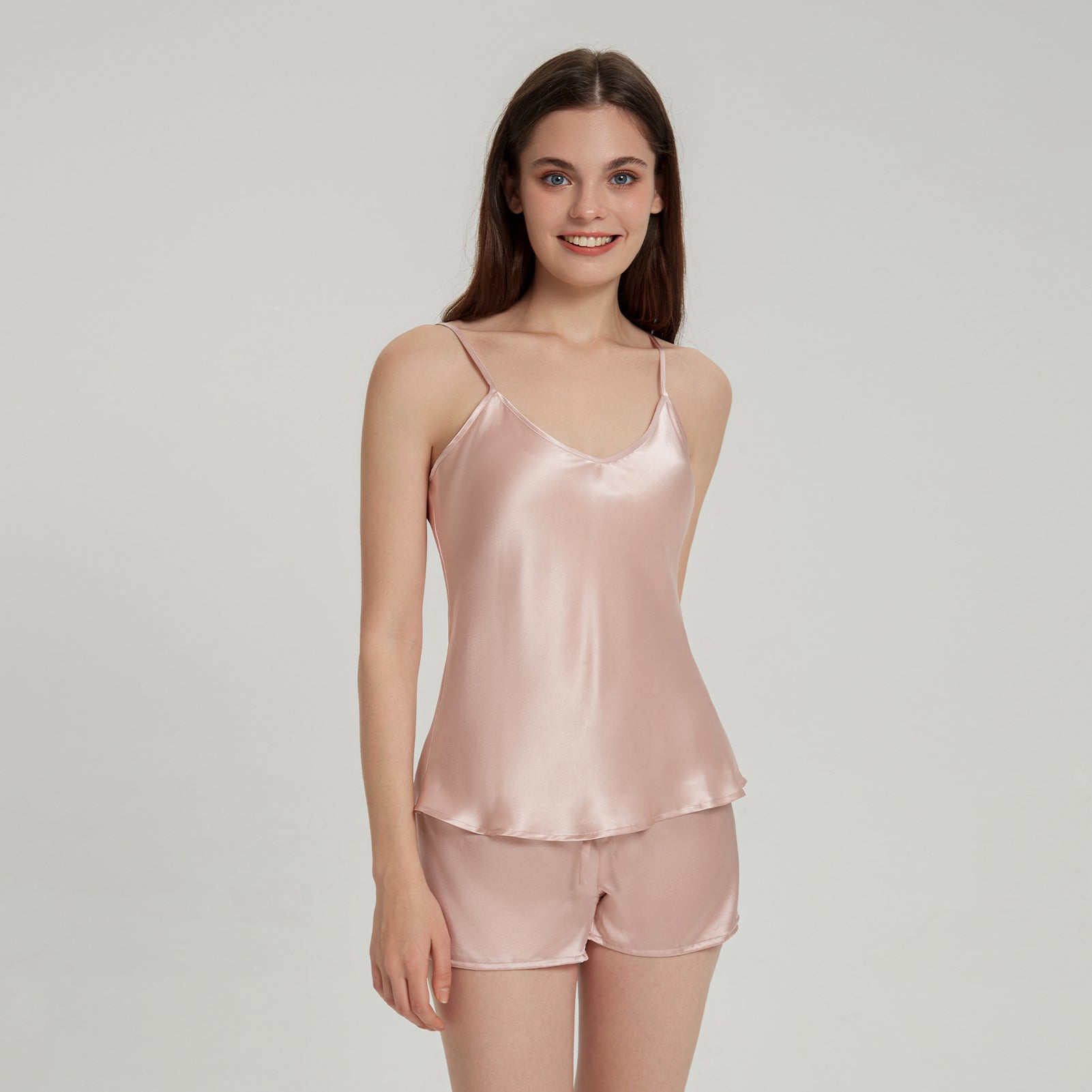 If you're looking for a versatile and sophisticated silk camisole top, this comfy and cozy silk camisole will fit the bill. It's available in three colors and is perfect for pairing with white suits and blue jeans. The silk fabric also contains amino acids and proteins and is light and breathable, so not only does it have a cosmetic effect on your skin, but it also won't give you any trouble with sticking to your body or getting static electricity.
Real Customer Reviews : This silk camisole top is breathable, soft, silky and shiny, perfect for wearing. What I like most is that it's made of silk, not polyester; and it holds up well after being washed.